PRE-SPRINT 8 – DAWN OF MEGA-MONTH – PLANNING
PRE-SPRINT 8 – DAWN OF MEGA-MONTH – PLANNING
DAWN OF MEGA-MONTH
November 27th, 2017
WARP DOGS' CORP LOGS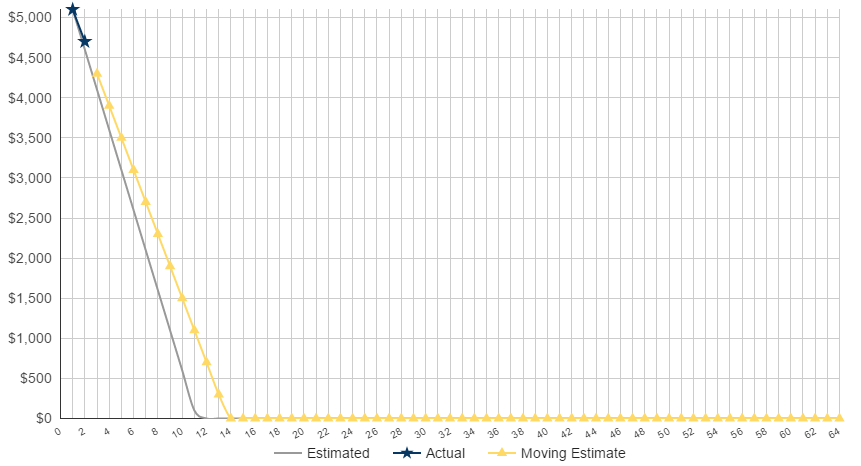 The state of our WARP CORP is strong, and also largely unchanged from last week. I've decided to change the "Estimated" line from black to dark gray.
I am unsure of the tax ramifications of such a change, but my team of highly respected accountants are on the task
Like many people, my dayjob pays out once every two weeks. The result is that most months you get two paychecks – except for the two months, each year, in which you get three.
I'm not going to pretend I have some inate skill in finances, but I know enough to realize this isn't "bonus money" and I treat it like any other paycheck – into the budget and out of sight, out of mind
Except for this coming month…
Mega-Month.
Mega-Month is a truly remarkable month in which a bunch of unrelated financial windfalls somehow sync up. They include:
A 3 paycheck month

Birthday & Christmas

Potential Christmas bonus at work

Various otherwise small payout from PayPal, Chase, and – of all things – fantasy football
Wow! That's a lot.
If all goes to plan, December will also be the last month we can earn money, so it couldn't come at a better time
Sprint Goals
Last sprint had a few issues related to time – to be expected when I'm still working and there's holidays to contend with
However, I really enjoyed focusing on more specific Power Goals, and this trend will continue. I want to focus largely on visual-related power goals this time around
An inn full of strange regulars. This work will encompass a few areas – new monsters, new "inn" tileset, music, tweaks to dialog, and an overall attempt to get a vertical slice of "feel"
The hero of this title has a cool style. I've been using open art for long enough – it's time to create an actual protagonist!
An unexplored world full of possibility. This is my first stab at making maps for both the world and our main town.
Time to get to it. The hope is to have some visuals to share before the end of this.