Feature Friday: An Early Look at Catching Critters
Feature Friday: An Early Look at Catching Critters
This is the first of what will be many Feature Fridays. Each Friday I'll take one major feature or interesting mechanic that I've been working on in Monster Village and really dive into it.
Today, I'm going to talk about the first of at least three hobbies: Critter Catching!
What are "Hobbies"?
At its heart, Monster Village is a village life simulator. With this in mind. you're probably already expecting a fair amount of "stuff" to do, and you'd be correct to think so.
The game is going to be chock full of activities, pastimes, and a whole lot of other tasks that you can do on a daily basis. Today's feature is about one category of activities called hobbies.
Hobbies are more involved than other activities, and there are a few things that really set them apart:
They require several specialized & upgradable tools to perform
There's progression in the form of skills, titles, and other upgrades
Most important, the end result of each hobby is to find collectibles for your Compendium, the museum, your house, or just to sell
At present there are three hobbies in the development: Critter Catching, Fishing, and Treasure Hunting.  As you may have guessed already, today's Feature Friday is digging into the first one!

Tools of the Trade: Nets, Traps, & Bait
There are many type of critters out there to catch and collect. Some, like the annoying Sea Fly, require no hunting – they'll find you
However, most critters aren't so easy to catch. Take the Half-Hopper, pictured below. One look at the player and they'll bolt away before you can catch them.
Your net is your primary tool to capture critters. Sometimes you'll need to chase the creature, and other times you'll need to sneak up on them unawares.
But what if you can't catch them with just a net? After all, this Half-Hopper – despite only having half the legs you'd expect of a frog – is pretty fast!
That's where bait and traps come in.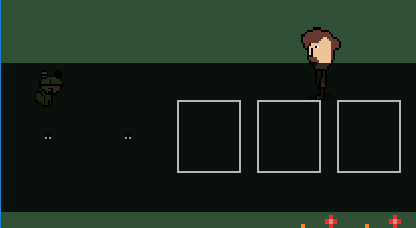 Bait allows you to lure your quarry either toward you or a specific spot. This is especially valuable for critters that run away, but it can also be used to flush out creatures that are hiding in the environment.
Traps are often used in conjunction with bait to capture critters without the need of your net – in fact, you don't even need to be around at all!
However, every critter in Monster Village is different, and catching them will require some planning. In fact, each critter has its own unique behaviors, likes & dislikes, and temperaments, so to be successful at hunting you'll need to be observant, curious, and be willing to research.
Take the aforementioned Half-Hopper. It is known by all that these frogs have a special hankering for Sea Flies. As such, if you could just capture the easily catchable Sea Fly and then release it near the harder-to-catch Half-Hopper, you just might have some better luck…
Ok, so clearly there's more work to be done here, but hopefully you get the idea!
The Future
Each area of the game will feature its own set of critters to catch & collect, and this will be a huge driver to explore and adventure through the many strange lands seen outside of town.
Some critters might be especially unique or bizarre, and they will certainly not be easy to get, so be sure to level up your skills, your net, and your knowledge to catch them all…
Critter Catching is going to be a major part of the game, so expect to hear more about it in the near future!